When looking for ways to eat well and take better care of yourself, choosing a juicer for a healthy nutrition plan is a simple solution. The ease of juicing fresh fruits and vegetables gives you a delicious treat that is extremely healthy and full of nutrition for you. How to go about choosing just the right juicer takes thought and consideration. Here are some guidelines to review before making a purchase. The first thing to consider when choosing a juicer is what you will be using it for. There are a variety of juicers that can be used for just fruits, vegetables or can handle other items such as grasses and tougher-to-juice items. There are also models that can mince food for other uses, make baby food, or produce different flavors of butter or dessert-type items. Determine how you will be using the juicer to eliminate the models that offer extra functions you will pay for, but do not necessarily need.
Choosing a Juicer in India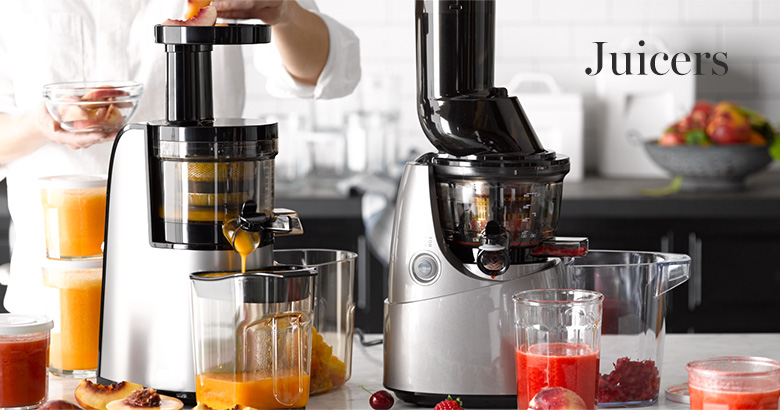 If you are living in an apartment or small home where counter space is valuable, think about the size of the juicer. If you are thinking about purchasing a juicer, odds are you want to use it on a frequent or even daily basis. Therefore, it will be sitting on the counter and the size of the machine will make a difference. A more compact model can still do a great job while saving you valuable counter space.
When choosing a juicer in India, also consider how many people will be using it. If it is just for one or two people, a smaller model may be adequate, but if the whole family uses it throughout the day, a bigger machine may be in order. Based on the estimated usage, determine how large of a chute size will be needed. The chute is the part of the juicer where the fruits or vegetables are placed prior to juicing. Chute sizes can vary from narrow to wide, and if you are serving juice to a larger group on a consistent basis, you may want to select a larger or wider chute size. A wider chute will also allow you to add a variety of different items at the same time, for a perfect blending of flavors.
When doing research on juicers, look for information on the noise level. It sounds like an unimportant feature, but some models definitely run more quietly than others. If you do not enjoy a loud or otherwise noisy machine, consider finding a more quiet-running model. All models make some degree of noise while in operation, however, some motors run more quietly than others. This may be important if there are small children in the house who nap throughout the day, neighbors or an elderly or sickly person who may be bothered by noise, especially in the early morning or late night hours.
The next thing to consider when choosing a juicer s the yield, or amount of juice that is extracted, from the fruits and vegetables. You should know and compare the yield each particular juicer will give you per pound. If the yield is less, you will need to purchase more fruits and vegetables, resulting in a higher grocery bill.
Types of Juicers in India
For models that run more slowly, more nutrient value is preserved from the items being juiced. Juice produced from a faster running machine tends to contain more oxidation, which lowers the nutritional value of your juice. If you want a faster-running juicer to save time, know that your fruits and vegetables will have a slightly less nutritional value than a machine that runs more slowly. For a higher nutritional value, select a slower-running model.
It is also important to remember not to overdue the time when juicing. Ideally, you want small pieces of the fruits and vegetables, the seeds and everything you put in to come out in a slightly thick consistency. The longer you juice the items, the more nutritional value is lost, and therefore, running it for just a minute or two should give you the perfect juice. Most juicers come with a recipe book so be sure to look through it for new ideas and also to see how long the juicer is run based on different recipes or items being used for juicing. It will take a little practice in the beginning, but after a short time, you will be able to determine the size of fruits and vegetables and amounts to use for the best-tasting juice.
Masticating Juicers
Masticating juicers mimic our chewing process by pressing and grinding your produce to separate the juice from the pulp.  These models are usually more expensive and yield the most juice from the most types of produce. If you are not yet certain of the qualities of a masticating juicer, and what they have to offer that centrifugal juicers do not, then read on. The name masticating juicer signifies the process used. They promise improved nutritional content in the juice they produce, thanks to their lack of oxidation and heat from the slow motors. They chop the food up into small pieces and then slowly but powerfully uses an auger to press the pulp through a strainer. Here I will explain why masticating machines produce top-quality juice with the greatest benefits for health.
These juicers use augers that grind, mash and chew through fruits and vegetables to squeeze every last drop of juice out separating it from the dry pulp.
We set out to find the best masticating juicers on the market.
They are very different from centrifugal models which grind up your food with blades and allow the juice to fall into a chamber while tossing the pulp into another chamber.
Then I will share my top 5 best masticating juicers list to help you find the best masticating juicer for you.
These juicers are slower than centrifugal juicers but are twice as efficient and effective having the ability to chew through greens, soft vegetables and fruits without any discrimination.
Advantages of Masticating Juicers
We looked at expert reviews in Consumer Reports, as well as best-of reviews in nutrition magazines and juicing forums. Because of the slow and gentle process that masticating juicers use to produce juice, less of the cell walls are torn, so such juice takes much longer to oxidize than juice from centrifugal juicers. Juice retains more nutrients because fruits and vegetables aren't shredded with blades, which exposes the produce to air and speeds up oxidation. For others the slow speed of this juicer may be a bane. Then, to see how these top-rated models fared in real-world use, we combed through hundreds of user reviews from previous buyers.
Masticating juicers also operate very slowly at between 40 to 80 RPM (Rotations Per Minute), and are therefore not at all loud, compared to the extremely noisy and power hungry centrifugal juicers with up to 12,000 RPM. You get more juice from your produce. The truth is it's not, especially if you're looking for better-quality juice. A masticating juicer works with a single gear or auger. A centrifugal juicer doesn't extract as much juice ounce per ounce, and therefore using a masticating model can save you money on produce.
There's no doubt that you can get the juice you want fast when you're using a centrifugal juicer. An auger is a drilling device, or drill bit, that usually includes a rotating helical screw blade called a "flighting" to act as a screw conveyor to remove the drilled out material, or in this case, pulp. However, you can have more waste when you settle for it. The remaining juice is collected and strained through wire mesh and collected. Consider the movement of the single gear juicer as slowly but surely. As the auger turns, the inserted fruits and produce is crushed, squeezed against the outside wall of the juicer.
Centrifugal Juicers

Centrifugal juicers chop your produce into pulp and then spin that pulp at speeds high enough to separate the juice. They're usually less expensive, but do produce a little less juice and tend to heat the juice a little. The juice is extracted by the sheer power of centrifugal force, very much like how a washing machine spins to relieve wet clothes of excess water. This two-speed, 850-watt centrifugal juicer is both easy to use and easy to clean, since many of the parts can go into the dishwasher. A centrifugal juicer can be much cheaper to purchase than a gear juicer and may be good for a beginner, or if you just want to "juice for fun". Centrifugal juice extractors are very common and therefore widely available. The juice passes through the tiny holes in a strainer basket and are collected in a container at the bottom. Continue reading What all you need to about Juicers – A healthy guide for health and fitness